What a difference a floorplan makes when selling your home in Bristol
What a difference a floorplan makes when selling your home in Bristol
Oh the days when we could wander around a shop with carefree abandonment. Yet here we are in the Covid era, having to adapt and change from the norm.  The property market is very much open but, as you'll know, things have changed. Nevertheless, buyers are abundant and eager to view your home any way they can.  From photographs to videos, they soak it all in, trying to visualise every inch of your property. There is one key item they are all keen to digest, and yet not every agent in Bristol feels it necessary. Let us tell you what a difference a floorplan makes when selling your home.
Is it essential?
It always amazes us at NEXA Bristol that not all agents see the importance of a floorplan. They take the time to take photographs to show the interior of the property, they may even focus in on period features, but what this cannot do is give a buyer the facts.  It's easy to misjudge the size of a room based on an image – too much or oversized furniture can make a room seem smaller, a shot taken in flattering light and the room looks spacious and empty.  This is where the floorplan takes over, the actual size of the room can't be distorted by furnishings and camera angles, the facts and size of the rooms are laid bare for all to see.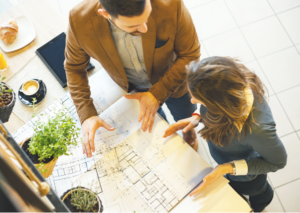 Room sizes are one benefit of the floorplan, but it isn't just the space a property provides that appeals to potential buyers, the layout is also important.  Not every buyer will be able to physically view a property, live stream viewings are fantastic and give the best alternative. But when reviewing whether the property is for them, buyers can sometimes get confused about the layout, which is why the floorplan is crucial; it gives them the clarity they need and helps to bring that potential offer even closer.
Does it work?
What we have noticed is how focused buyers are on finding a property that accommodates their lifestyle.  Having spent so many hours in their homes this year, buyers are absolutely clear what they want and need from their next home.  A separate workspace is often on the must-have list, but how far away is this from family spaces? This is obviously essential should there be a need to self-isolate.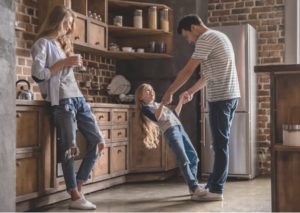 Is there an area that brings the family together? A place to cook where a careful eye can watch over children whilst they are doing their homework?  The desire for a wonderful space to entertain, when we can, is at the forefront of people's minds, we can see the longing to fill homes with loved ones and laughter being a priority when normality returns.
Is there potential?
It can be hard to view your home as anything but perfect, but just as you'll be wanting to make your mark on your new home, buyers will be wanting to make theirs on yours.  Buyers' eyes are full of imagination and creativity and they may see opportunities that you never envisaged; the floorplan is key to them envisioning the potential of your property.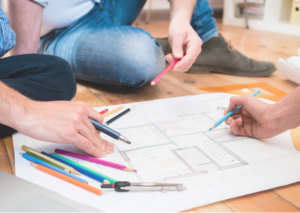 Whether buyers have viewed your home physically or virtually, it can be hard to accurately recollect the true size of rooms and where they are positioned.  Working from the floorplan, buyers can start to knock down walls, open up spaces and create new ones.  It is this scope for potential that grabs buyers' hearts and keeps niggling, and when this happens you know you have them hooked.
Positioning
Just as potential is a consideration for buyers, so is positioning, and where each room is located can be a deciding factor.  There has been an increase in the number of families who are looking for homes that can accommodate an extra family member, whether that be a parent or grown-up child. Can your property provide them with some privacy?  Those with young children may wish to have bedrooms close together rather than on separate floors, and prefer the bathroom to be close by.
What it offers
The floorplan isn't about what your property offers you, it lays out the facts to enable buyers to begin to explore what it can offer them.
Not having a floorplan hinders buyers' decision-making, as without the facts they can be relying on assumptions. This is what your floorplan offers them – the facts.  Never underestimate the importance of a floorplan when selling your home in Bristol.
If you're curious what your home is worth, you can contact me directly on 07807 778 350 or email jake@nexabristol.com