Ideas for keeping you and your home warm this winter
The weather has turned, from heaving downpours to chilly temperatures, those woolly hats and thermal coats are now becoming the norm. We know that many people are worried about keeping warm this winter with the rising cost of energy bills and as such, according to the Energy Saving Trust, four out of ten of us will be avoiding switching the heating on. With more of us working from home than ever before, being cold will certainly be a hindrance to productivity. With this in mind, our team at NEXA has come up with some ideas to help you and your home stay warm this winter.
Change your habits
The last thing we would suggest is being very uncomfortable and cold so if you need to put the heating on can you turn your thermostat down by one degree? By doing so, it is estimated you can save up to around 10 percent of your fuel bill.
Soft furnishings
Making a few new additions to your home's interior décor can help keep the warmth in, which can only be a bonus. Thermal curtains can provide your room with extra insulation via 'triple weave technology'; they also have blackout and noise-reducing capabilities, so not only can they help to keep the heat in but they also can keep your room cosy.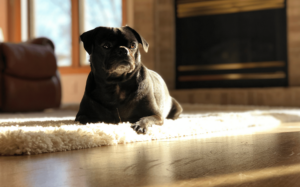 Rugs are also another way to add additional insulation, around 10 percent of heat can be lost through uninsulated floors. Whether your floors are insulated or not, the addition of a stylish rug will be a great way to keep your home snug this winter.  Draught excluders are probably not something you had thought of as the ideal accessory for your home, but those retro beauties can really make a difference in keeping the cold air out. There are a wonderful array of styles available on the market these days, you are bound to find one to match your colour scheme.
Additional warmth
There doesn't seem anything sexy about having an electric blanket, but we bet that when you venture upstairs and feel the chill in the air, you will be delighted to snuggle under the covers to glorious warmth rather than experience the sudden shock of icy sheets.  An extra blanket or throw is an ideal accessory to any room, something to cosy into whilst watching a movie, or an extra layer on your bed.
Another way to add extra warmth is through a good old hot water bottle – quick and easy, there is no more perfect way to eliminate any chills when you arrive home. You can choose from those full of beans which you can heat up in the microwave or a traditional boiled water filled one.
Extra warmth
Of course, it is always beneficial to put on an extra layer but make sure it is a thermal one; you don't need to be heading down the ski slopes or hiking over the moors to wear such clothes. Good winter woollies are worth their weight when it comes to colder days and nights, a good pair of warm slippers can keep your feet warm which will also help your overall body warmth. Underlayers such as thermal leggings, merino wool tops, or even an extra vest will all help to keep you feeling comfortable when things get chilly.
Your feet are one part of your body you should really ensure are kept toastie, because if your feet are cold you will start to feel cold all over. If your slippers are not doing the trick, look into an electric foot warmer, and you will soon start to feel those shivers disappear.
Film, Foil, and Bleed
If your windows can be a little bit draughty, you may not have the funds to replace them at this time, but that doesn't mean you can't do something about it.  There is an easy solution available on the market and that is with secondary glazing film which can help insulate the glass.  The sticky film is easy to apply and will add an extra layer for protection from the elements.
When you switch your heating on you want to ensure you get every ounce of warmth for your hard-earned pennies, and another easy solution is to use radiator insulation foil.  This padded self-adhesive foil just sits behind your radiators and makes sure the heat is radiated into the room, making cosier spaces ideal for the winter months ahead.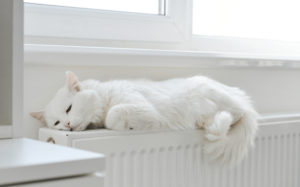 When is the last time you bled your radiators?  When you have your heating on you want them to be working at their best and any trapped air will stop the warm water circulating around your radiators properly and as a result, it will take your rooms longer to warm up.
Keep the chill out
We hope some of these ideas will help keep you and your home warm this winter. If you are selling your home at the moment and it feels like you're out in the cold, we can warm up your sale. Give our team a call today!